I drive around these roads all the time but it's only when you get from behind the wheel and put on your boots do you really "see" how lucky we are to be surrounded by such beautiful scenery in Speyside.
Today Jennifer and I opted for a short walk along the Speyside Way beginning in Grantown on Spey. A section neither of us have walked despite the fact I pass it weekly at least once and, as I would discover, Jennifer used to live there. The sun was shining, it's Wednesday and one of us wanted, no needed, to unload a little. What other excuse do we need?
We parked in the main car park near the museum, and gathered our water, rucksack, snack, layers, bum bag, camera, notebook and pen – you would think we were heading up CairnGorm not taking a leisurely stroll by the river. Ok I admit, that was just me. Jennifer is more accustomed to travelling light. I like to be prepared. An hour in I would come to regret carrying so much baggage.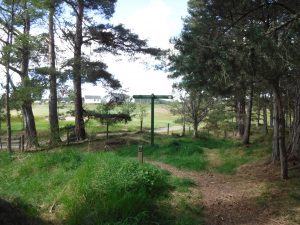 The walk takes you down the Forest Road to leave the town and head eastwards through Anagach Woods. Described as the haunt of the Capercaillie. We didn't see any, though I confess we weren't listening out as we chatted about the week so far. I discovered today that Jennifer used to live in Grantown. There is a whole world down that part of the town I never appreciated. Access to forest and riverside walks, some gorgeous houses, heaps of character. It's easy to see why people love the place. Especially those who live there.
The walk meanders through the woods, with various options to divert to the Old Military Road – did you know that road continues and becomes the A939 to Tomintoul? We stay on the Speyside Way carefully following the thistle signposts along the way. Oops, nearly! Nearly followed the wheelchair sign. Glad Jennifer is in charge of the glasses. The paths are well made and it is a popular spot for dog walkers.
After stopping along the way to lose a layer (I am running out of places to store things now) we eventually reached the iron bridge over the Spey into Cromdale. Time had flown and it was already close to 4pm so this was our turning point. Quick snack and soak up the glorious views before heading back. It really was stunning. My hubbie fishes this stretch of the Spey on occasion and it's easy to see why he comes home having not seen a fish yet is totally chilled. Imagine gently casting a fly line in these settings.
Heading back the conversation has turned. Coming out I mainly listened as Jennifer released her own tension. Going back we had switched to my plans to put my business in retirement and what might come next. Writing perhaps? Could I have the confidence to speak, share my stories with an audience. Would anyone even find that remotely interesting? Step, step, chatter, step, step…….
"Love the T-shirts ladies". Two lasses sat taking a breather commented as we stopped to ponder the right path. You need your wits about you with so many choices. I don't remember these on the way out. Thank heavens these ladies stopped us in our tracks or we would have been down the wrong way, chatting ten to the dozen.
The t-shirts? Oh yes I totally forgot to mention – we had both turned up in the same shirts. I promise it wasn't planned. And was probably a measure of what was inside our heads when we each got dressed this morning – although each of us at the very opposite end of an emotional spectrum. A bit spooky though don't you think?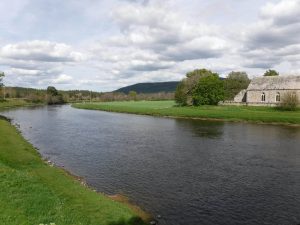 Over 6 miles and 15498 of my steps completed (and another little bit of the Moray Way ticked off) and we are back in the square looking for coffee and cake. Hats off to the No7 Bistro who, despite it being 5pm and strictly speaking "supper" time were more than happy to pop the coffee machine on and serve us much needed refreshment – with cake! Well it's thirsty work all this talking. We wouldn't let a time rule stop us asking now would we. After all "Well Behaved Women Seldom Make History" – it says so on the shirt ;).
Remember, walking and talking is a good way to unload. Simply walking alongside someone, even in silence, can help. Company might be all someone needs who is battling with issues. I am supporting SAMH – the Scottish Association for Mental Health through each of my boot steps. If you too would like to support them too, then head to their website.