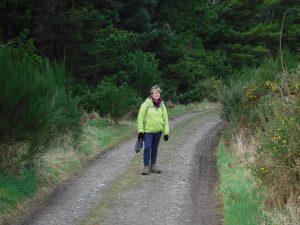 Well a walk from Portgordon to Spey Bay on the Moray Firth coast of course.
Neither destination was on our original plan as we left home this morning. Home is Glenlivet and close to an hour away. I love where we live – but my one wish is that the sea were just a little closer. I know, I am selfish 😀 But the sea is my happy place. The place where I can think. And breathe.
The original plan was to head to the Portknockie/Cullen area and do some of the walk I did with my friend Mhairi last year. That day it was a lot warmer and a lot calmer. Today it was bitter cold and mighty windy as we left home. And that route takes you out onto a steep section, cliff top and narrow boulder track and steep steps. Perhaps not the most sensible if it should be gusty. So a rapid change of plan and without a map we decided to risk all and look to pick up the Moray Coastal trail across lower land. So we dropped into Portgordon and looked for a walking sign. Any sign. It would be an adventure.
We left the car with waves making the odd appearance over the wall. Would the car get over-topped I did wonder. After a brief excursion along the sea front (well it looked awfully like a path to me) it soon became apparent that deep channels and inlets would prevent a true coastal path. Fail no 1.  But not prepared to do the "walk of shame" past all the houses again, or get back in the car to move on we doubled back and found the inland signed route instead. That's rubbish – I needed sea.
Initially it follows the old railway line but then heads away to follow a much smaller path through woodland to divert around the landfill site. By now the sea was no longer in sight – but on the plus side it was a lot warmer and sheltered.
Mr Smith was my walking companion today. And official photographer ;). "Trekker sitting in a random place" has now become part and parcel of a days walk for the Tartan Trekkers, my buddies in the Sahara. Today's was by the 6th tee on Spey Bay Golf Course. Shhh, don't tell anyone. There were a couple of "is this right?" moments – because this looks nothing like a railway line as it snakes through the trees. In fact at one point I questioned whether we were simply doing a circuit back to where we started.
Eventually Spey Bay appeared in perfect time for a lunch stop. Yay! My beloved sea is back. A gorgeous spot and famous for the Dolphin Centre it is usually teaming with tourists in the spring and summer. It was much quieter today. Apart from the elderly couple rooted to a stone circle, motionless, staring out at the mouth of the River Spey waiting for the Osprey it "promises" you will see come to feed on leaping salmon. The couple might still be there now!
Tummy sustained, energy levels topped up and we retraced our steps. Pretty much back the way we came, though head down and chattering we did miss our final turning. "More boot steps" says Mr Smith. He's learning :). The route itself is sadly marred by construction works which do detract from the beautiful landscape. But then I recall one of my old engineering colleague's classic lines when answering a phone complaint from an angry resident about their road being dug up to replace the public sewer. "You can't make an omelette without breaking an egg".
Back at the car – yes it was still there – and the sea views are now just stunning. The tide is heading out now revealing sand and rocks and the light is rather lovely too. I am reluctant to get in the car and leave. So I take my time, one more photo, and slowly take off the layers ready for the drive home. See it's working, my world has finally slowed down. It's only taken nearly four hours to finally relax.
Today wasn't a mega distance. 7.3 miles and 15821 steps. But for me this walk was more about getting my mojo back. Last week's 20 miler left me feeling less confident. This week has also been hectic workwise which has been mentally draining.
At the very start of this epic journey I said part of my challenge would be making more space for me, and feeling able to walk away from my desk or my studio without feeling guilty. And I know that lately I have had more excuses not to walk and need to try harder. I have come too far for the wheels to fall off now.
So today was a reminder that in the right place a walk can help take me right out of all that consumes my normal day. And so I came home and I opened my diary. But not to enter a work appointment. Nope – to enter walk days!
28 days today ….and guess what Sahara? I am coming to getcha!