Wow! Well that's a birthday Claire won't forget in a hurry. Our lovely Claire was 40 yesterday. 18 miles she had walked over stones and boulders – with her dodgy knees 😉 And then we and the camp had a surprise for her at dinner. Elaine was charged with keeping her occupied while the camp boys dressed the mess tent with balloons, banners and fairy lights. They had even baked a cake and brought a bottle of wine for the occasion. We had all (thankfully) eaten and were just settling into a glass of red to celebrate with a piece of cake when suddenly Bang! The whole mess tent shifts with the wind. Bang! a corner leg is down. "Tent down". Bang! There goes another. There followed much activity as folk held onto the central pole, held up the sides while Ahmed, Ibrahim "Brian", Dawoud "David" ran around the outside trying to re-erect poles and make it safe again. We knew the wind had got up, but not to this extent. We had arrived in camp to find them re siting the toilet tent to a more sheltered location. You would need your boots and torch and a ball of string to find it (and your way back) to the tent tonight. I say "toilet tent". Imagine a plastic pedal bin (it wasn't but I mistook it for that on Day 1), sat over a hole, inside a makeshift frame covered in green polythene. With said polythene now flapping wildly and horizontally in the breeze I doubt many would bother trying to protect their modesty in there tonight.
So back inside the mess tent and it's still chaos. Funny but chaotic with an air of "ok what do we need to do?" Half a glass of wine and we had already lost all sense of logic ;). Various people remembered they had left their tent flaps open, I even wondered how many tents would still be standing. The decision was taken to drop the tent and everyone head for an early night. Now this was going to be interesting. It was literally blowing a Hooley! Our two man tents had openings each side, an outer shell over an inner sleeping pod. Guy ropes had been attached as a precaution, though I never quite worked out exactly what they were roped to. So the technique was "one door open at a time". Two openings might result in the whole tent heading off down the gorge. Except when you opened the tent you then realised the entire inner pod was filled with sand. Messy! There was no way I wanted to be evacuated to any B&B if I could help it, that's for sure. When Rosie and I finally turned in we chatted a wee while before finally drifting off to sleep but not before Elle asks Jennifer "Do you think we need to leave the flap open to get some air in"? Priceless.
Despite the wind I slept well. So this was it. Our final day. The camp team, with no tent, had simply slept under the stars! It was a cooler start, we were now in the lower mountain region so needed a layer on for breakfast and to start walking. The sun was still shining and there was still a bit of a breeze, today would be all in all much more comfortable for walking. But for now we huddled around our last breakfast – porridge seemed a good option today. "Last breakfast photo?". How had we got here so quickly? I really didn't want this to end.
As we began our preparation for the last days walking we laughed about the night before. Those who had ventured out of the tent for a wee in the night and gave up trying to find the toilet tent. Those who simply hunkered down and forego teeth and toilet. Others who had braved the winds – taking turns to "man" their tent in case it blew away.
Walking away from camp for the final time, we passed a number of water pools. They would have been a welcome swim spot a couple of days ago. Following the river bottom in parts, over river washed bedrock, we continued to climb, up along the side of the gorge along narrow paths. To the left and to the right faces of layered rock forming peaks and stone plateaus (hamada). The occasional group of donkeys watching us walk by. A colourful lizard camouflaged against the blue/grey stone. The pace today was gentle. Time to really take in and enjoy every bit of our last day. My feet and hips ache. I have blisters upon blisters. Yet somehow that all fades into the background. The cameras are frantically capturing every moment as if it would be the last. Everyone was in good spirits though some I imagine are now realising just how soon this would all come to an end. I look back at how far I have come. Not just the miles walked but the entire, dare I use that word, journey? A journey which has had its fair share of twists and turns and one where I once doubted I would even reach the Sahara let alone the last day.
Our guide Mstafa was struggling with his knee today. We sensed his need to get in a zone where he could block out the pain. When you think back he had given so much of himself to the group. Fixing several trekkers along the way with magic cloths, practical advice on pain management, walking to prevent injury, handy tips to help a shoulder or two. Mentally it must be exhausting to be there for everyone the whole time. Planning the day, taking good care of us, keeping up the conversation. So who would fix Mstafa? We would. Today we said it's our turn. We would give out trail mix, water, Kirsty would even take off his boots – much to everyone's amusement.
The scenery for this first section was spectacular.  When I think of the Sahara I think of the dunes (Ergs) and the endless plains of stony gravel (reg). I don't imagine something like this. Over my shoulder the rest of the camels and team appear. Cook and camel men singing. The sound was truly beautiful as they exchanged lines in song. A call from down in the dry valley (wadi) – a response from high on the hillside. We could still hear them long after they were out of sight. I tried to record it but with little success. It's things like this I want to hold onto. It's just magic!
Onwards we walk. The terrain levels out for a while following a vehicle track. Now that's a first. Evidence of civilisation ahead I guess. This section does seem to go on forever. I don't like to be able to see a long way ahead, much preferring to walk in a landscape which changes with every mile you walk. "It's like the Elgin to Lossie walk" someone says. 😀 😀 That's a walk which the trekkers have done many times to build up distance. It goes on and on and you just wish it would end. I have mixed feelings. Yes it is heavy going and less interesting so I wish it would pass, but every step closer is also bringing me nearer the end. And I don't want to get there yet.
Finally, we reach our lunch stop. Our final table laid under a tree. It really was cooler today, I sensed a restlessness. After lunch Elaine and Claire drifted off to a patch of sun to soak up the sun and chat. Kirsty headed off with her music to find some space. Jennifer walked a little. Rosie and I soon followed suit, each seeking our own peaceful spot in the sun. "You can tell we are getting to the end now. We are starting to walk for pleasure". Oh Pauline, you do crack me up.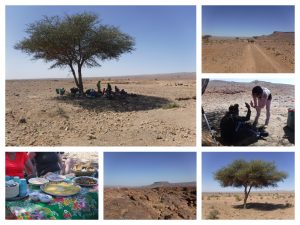 I chose to sit on the bank of the river. No water of course, but it still drew me in. I watched the shepherd fetch his goats from a long way over the other side, across the dry river bed, to the nearby well to drink – much to the surprise of an oblivious Rosie who found herself surrounded by them. "You know when you get the feeling you are not alone?" I watched David come down with his soap and bowl and take a wash.
I headed up the hillside a little to watch. To take in the whole atmosphere.  A couple still dozing in the sun, some stirring in preparation for the final section of walking.  Others went to join David at the well and were treated to a hair wetting or a go at fetching up the water. I hear the chatter, the laughter, the giggles. And I can feel that, oh so familiar, lump in my throat. I can't stop myself now as the tears roll down my cheeks. I want to stay like this forever I think.
The afternoon's walking took us out over more rocky paths, through and among rocky outcrops before dropping down into another gorge. This would be the toughest section of all on those feet and joints today. In and out of shade, we were much cooler, but the stones underfoot made it heavy going. We were rising all the time too. "Are we going to make it to the top?" Mstafa asks. Pauline and I stop dead. He is kidding right? Thankfully, he means just to the end, not climbing the peak we are passing by! We carry on. This will be hard on Claire's knees for sure. One final pull and we are there. One by one we slowly walk towards the edge – the very edge! Wow! Wow! Wow!
We looking down onto a hazy civilisation way way below. You can see agriculture, camps, road, cars.  Our camp is just a wee white dot in the distance. Time to sit and soak it up. We are almost there. Ok so we still have a hairy walk down the cliff face along a narrow track, but seriously – we are as good as finished!! But I don't feel relief. Instead I feel a sudden sense of sadness.
The final steps down didn't really bring about anything other than a need to be back in camp, tent up, warm layer on as it was now feeling chilly. This really was a case of one foot in front of the other. No memories to create as I was already thinking about the entire challenge.  Runners passed us going up – really? I nearly toppled off "If I don't make it just make sure Steve gets my notebook". I wanted finished now but for practical reasons. And then we were there. Ten women (and a camel) hand in hand singing "500 miles" as we headed to camp. Not hand in hand with the camel of course…well maybe symbolically. And that was it – job done. We 'hoyked' Jennifer up on the camel to take us the final few steps and were met by the entire camp team with hugs, high fives and then hugged each other one by one. Time for a whole lot more tears.
Back at the top of the cliff someone said "shall we tag the end, turn round and go back?". Hell yes! It's going to be a tough drive out of here tomorrow for some of us I think..
Thanks Kirsty for the fab Boots photo. I can't believe they are all still intact 😉