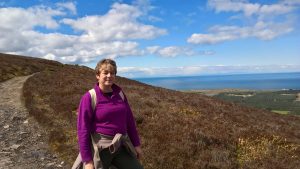 Hi. My name is Marie Smith. I am in my 50's and living in rural Scotland with my husband and a home full of dogs and a cat.
Until 2018 I ran my own events and wedding styling business. It wasn't so much a job as a vocation which kept me extremely busy. I was almost always tied to my desk, my studio, my van or a venue for the biggest part of my working day – and indeed week. I loved my work – so much so that I regularly forgot to stop and take time for myself.
Back in 2016 I set myself the challenge of walking One Million Boot Steps for charity. The rules were quite simple – if a step wasn't completed in a walking boot then it wasn't counted.
And to make sure I did it I chose to support two charities – Moray Women's Aid and WaterAid UK. Those walks took me all over Scotland and on to the Sahara to complete 108 km with a fabulous group of ladies less than a year later. Over 500 miles walked (in boots). Well over a million steps (did I mention they were in boots). And I raised over £4000 for those two charities.
Since then I have charted various walks, or outdoor initiatives in my life, which mean something to me. In the spring of 2018, I walked a section of the Rota Vicentina, while mostly raising awareness for SAMH. Those musings never made it onto paper except for this article
Then during the whole Covid thing, I set about reducing my blood pressure, waistline, and normalising my blood levels with that whole daily exercise we were allowed to do!
My last real 'effort' was in 2021 when I signed up to the Moray Business Women Transatlantic Challenge. A mission to work as a team, propelling ourselves virtually from Elgin in Moray, Scotland to Elgin in Canada – and back again. A total of 6777 miles in just over a couple of months. Everyone had their own reasons, their own motivation, and their own needs.
I am still walking occasionally – and writing (not both at the same time of course). But now I simply do it for pleasure… and not half as often as I should. Maybe it's time to pick my feet, and my pencil, up and get writing about beautiful spaces once more.