Sitting here with my head against the window, music playing through my ear "buds" I feel a sense of something I can't explain. I knew even before the first step in the Sahara, today would be a deeply emotional one for me. The moment I stepped from the car nearly a week ago and saw Pauline with her fabulous pink hat I knew this was going to be a memorable week. On many levels. The excitement in the car on the way to the airport was more than you could imagine anyone feeling, especially at 4:45am in the morning.  Poor Mr Smith must have thought he'd picked up a school trip by accident.
I drift in and out of sleep as the bus makes its way over the Atlas range to our hotel in Marrakech tonight. With every waking, comes a new view. And my thoughts begin to wander back through the week.
Last night had been a wonderful celebration of our five days here. Made to cover our eyes, we were surprised with another cake (this time a lush chocolate and cream cake iced specially for Clare's 40th yesterday) and wine. After supper the team would drift in one by one, drums and tambourine in hand. Ok that's a water container and a tea tray to you and I. And so the singing and dancing began. First the Maroc team, then the Trekkers. Now you know when you have your radio on in the car and you can sing every word? So how is it when presented with a challenge to return with a song you can't think of one you know all the words to? 500 miles was first up. We woke up, havered, came home, got drunk, went out. Yep, all in that order. The Proclaimers would be proud (or die a little inside). Then Pauline offers a "Heads Shoulders Knees and Toes". Inspired! The Maroc team joined in – hysterically. Perhaps it was the fact collectively we'd seen at least one of each of those body parts attempt to trip us up this week. But we are stronger than any of them. We did it! And so finally it was Flower of Scotland, belted out proudly, before returning to a gentler seated final song by our hosts. I felt privileged.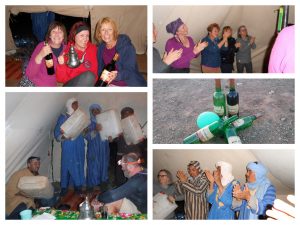 So who were our ground team? Mstafa from Maroc Nature led the team. Rachid drove us into the desert with Hamid and Youssef driving the other two cars. Youssef would dip in and out of camp as our emergency vehicle. Meanwhile Omar was our camp cook while Lahcen also helped in the mess kitchen and made amazing bread. Ahmed (affectionately known as the cheeky chappy) and Dawoud (David) were camel men and young Ibrahim (Brian) mucked in wherever he was needed. And, along with Omar, had an amazing singing voice, always keen to start a kitchen song.
And it was our camp team who had been there to whoop and scoop us each into the air as we finally crossed the line. Hand in hand after the sun had dropped behind the hills, a noticeable chill descending. But we didn't care. We had done it. The whole team was thrilled to share our happiness. Hugs, kisses, high fives, laughter, tears and cheers. It might have been ten plus a doc and Mstafa and a camel (and cameleer) who had done the distance but it was like the whole team had walked it with us. We finally headed to our tents, to begin preparation for our departure tomorrow, nobody in any hurry for supper tonight. Our last night almost over.
Back on the bus I wake again and find myself thinking back to the very start of this. Susan kept saying about some Sahara Challenge or other and "Fit for 50". I didn't really imagine any of us would take it on, seriously. And then suddenly, we were signed up. I was ready for an adventure. I wanted to do this – for me. And boy has it been an adventure. And I am thrilled I got to share it with Susan. Everyone keeps jesting with a sarcastic "thanks a lot Susan" but we all know deep in our hearts her suggestion to trek the Sahara for Moray Women's Aid, was inspired! Ten women thrown together could have had a very different outcome. Instead I find myself swallowing that oh so familiar lump in my throat as I think "does this have to end?".
From the moment I signed up, like reading a book, I had begun to form a picture in my head. A 'think bubble' of images. The days would involve a train of camels, followed by a train of people, with guides along the way, a doc at the rear and then a back up vehicle, wouldn't it? Wrong. Image No 1 erased and replaced by a very different and special reality. One camel, one camel man, one guide and a doc who was as much a part of the group (and great photographer) that we almost forgot he was there to fix the walking wounded. "Dad" the Maroc team called him as they laughed heartily at his wayward daughters! We were assured we could get a vehicle to us by radio if an emergency occurred, but there was something quite special about it just being us, and our camel, at peace with this beautiful country.
In my head, dinner would be in a big mess tent, with us seated around the edge on rugs, big enough to find your own space to eat and reflect. Laughing and chatting around a camp fire outside even? Image No 2 banished forever. The mess tent was just large enough for one long low table. A table? Bonus you say! Ah, a coffee table height table (that will test my hips, back and knees) with everyone seated on the floor together, no escape even if you wanted to. A test perhaps for those seeking some solitude, but as stories of the day and of things entirely unrelated unfolded, the laughs came and the night passed quickly. But did anyone remember to try that important early tip to sit back to back for supper?  Nah. Cross legged, kneeling, half lay, we each tried to find a comfortable position to eat. But we were all in our sleeping bags most nights by 9:00pm, tired, full bellies and content.
I imagined by Day 3 I would be tiring and sore. On Day 4 I did have a very sore heel. Rather like it had been bashed with a hammer. But inspection at our trail mix stop would reveal a creased inner blister sock to be the perpetrator. Banished to the rucksack and back to my trusted one sock regime and I was like a spring lamb! Who would have thought that?
It was also interesting seeing all those carefully planned inventions and great ideas fall by the dune side. And with them any inhibitions. There were those who imagined, and packed, something to protect their modesty when needing a toilet break. As far as I know few if any saw the light of day as the "happy bush" became the order of the day. And when I say bush you really have to use your imagination. After three to four litres of water, a dash to a low spot in a dune in time was often all we could muster. I had brought a folding camping bowl for washing with my left over water – it never made it out of my rucksack. Instead our tent opted for our very own version of a bed bath, inside sleeping bag, with wet wipes. No, not each other! Hair remained unwashed and with it the attempts to 'style it out' got more and more inventive. For some, hair got bigger, others tucked it away out of sight.
But one thing I was fairly sure i could predict was that by the end of all this I would be glad to get my boots off and put them to the back of a very dark cupboard. Wrong! Instead we would discover just days after arriving home a heartfelt need to put them back on and walk with those who had made this journey so great. So memorable. And that in itself shows just how powerful this has been.
See when you look at some of the statistics it really does bring home what we have achieved. We each walked around 109 km. That's 68 miles in "old money".  And string all ten together we have covered the equivalent of Elgin to Portsmouth (plus a bit) – imagine that in relay 😉 But the biggest surprise of all was the total elevation gain over the week. More than one fitness device/app saying over 7000 ft! I am still struggling to come to terms with that. I mean? That's two Mount Snowdons right? And not so far off three Ben Rinnes? Granted some of those ups would have followed closely by a down. Oh those dunes – two steps forward one slide back. If you had asked me to climb Ben Rinnes three times in just over four days I would have thought you quite mad. So if we did climb the equivalent of two or even three rather large mountains in that week then hell, I'll take that. Even one mountain in that heat would have been a challenge. I have heard a lot about Adrenalin this week but I truly feel that deep down it's a whole lot more than that which got me to the end – and still with all my toe nails intact! And even more to compel me to want to turn back and do it all again. As I say, it's powerful stuff.
So back on the bus I watch the scenery. Stunning scenery. Beautiful colours. From volcanic ash black through rich orange red sands into an almost olive hue. Backed by the snow covered High Atlas Mountains. Occasional settlements with buildings made from stone or adobe – the plentiful supply of that deep orange sand and clay evident in their construction. From the very basic roofless constructions (never quite sure is it a house or under construction) to the almost extreme display of decadence in ornate architecture. It really is a beautiful part of Africa, and it has been the most amazing experience. I need to find a way to grab these views, and these emotions, and bind them together. To hold them in a virtual keepsake box along with the overwhelming love and pride I have for the company this week. Because I am scared I might lose the intensity of feeling I have today. That I might look back and it have faded back into that "think bubble".
It was a very quiet coach that headed back to Marrakech that day. Many dozing but I suspect many deep in their own thoughts too. They say these things are life changing? An often overused phrase perhaps? I for one have always taken such claims with a pinch of salt.
I had put some music together to walk to but in the end I only used it to think and write to. But one song keeps drifting in and out of my musings. "We've come a long way, But we're not too sure where we've been (where is the map when you need it)……..Feel I've walked a thousand miles, Sometimes strolled hand in hand with love, Everybody's been there…….Never forget where you've come here from" Cheesy maybe but there we have it…Because someday soon this will indeed all be someone else's dream. But for now it's ours. And something tells me, for some of us at least, this isn't the end but just the start of another chapter…….
What's that you ask? Boot Steps? Oh yes, I almost forgot. I can finally reveal my personal boots steps total since beginning this challenge to be 1,114,565. In walking boots. In the great outdoors.
And guess what? 500 miles (plus 3). Yes you can quote me happy! You can even sing it if you like 😉 ….
Outtakes
Come on, you didn't really think you would get away without at least some of the asides, did you? Warning, you may have had to be in the moment to appreciate the humour..
I wasn't even out of Inverness before my first fail. The zip on my carry on broke leaving me holding it all together with safety pins. I then had my only pair of reading glasses fall apart at Heathrow airport. I borrowed Jennifer's and with a boarding card and steady hand managed to fix them, only for them to come apart again four days later with the rhythm of the walking (or the camel!). I had a total of three zips break in the end. The zips were all irretrievable but it's amazing what you can do with a Compeed plaster when you omitted to pack a tiny screwdriver and you really need those glasses :D. Even if I did look like Jack Duckworth off Corrie.
Pauline, why are your trousers two different colours? I refer you to the Styling it Out photo above. "When I was packing I had two different pairs of zip offs. But my rucksack was full and I had to make a choice. Tracker bars or legs? The Tracker Bars won". Two pairs of pants, one pair of non matching legs. Genius! Styling It Out 😉
When the two wee girls came to visit us on our fourth Day we struggled to communicate so needed help to translate.  After buying we settled down to snooze. They stayed rooted to the spot. Pauline "Do you think they are waiting to be told they are ok to go?". Me "Perhaps I just accidentally bought them?"
And then, because nature doesn't stop we had the whole body hair issue to entertain us too. Final morning was so cold everyone was keeping moving "I don't want to rub my legs together they might start a fire". How I wish I could lay claim to that line, it crippled me! 
Kirsty "I am loving your hair, Marie. It's kind of like a really bad 80s perm crossed with something which would look great on someone 20 years older" Me, after three days of no hair wash, just dry shampoo, sweat and a wet headcloth to clear my headache. 
Heading down that final steep path to our last walk home I took a wee stumble. "Careful" someone calls. "If I don't make it can you just make sure Mr Smith gets my notebook?" I joke. Back comes the reply "We'll arrive at Inverness leading a camel and two children and say 'sorry she didn't make it but she wants you to have her notebook'" "A notebook with a list of men's names in it" shouts Kirsty. In my defence, I was getting their names for my blog…honest. 
We stopped for a quick look at Tombouctu on the way back. Getting back on the bus and Elle suddenly hits the deck. "Typical I walk over 100 km in the desert and nearly break my foot getting back on the bus"
As for the rest they will stay very much in my book of memories (and howlers). Because what goes in the Sahara stays in the Sahara….unless you are blogging 😉
But the final mention goes to Claire who is now known (to me) as the Queen of Scarves. I am sure she has passed through here in a former life as she knows at least 100 ways to tie a head scarf. 
Thanks again to the Trekkers whose fab photos have helped me put the words into pictures…